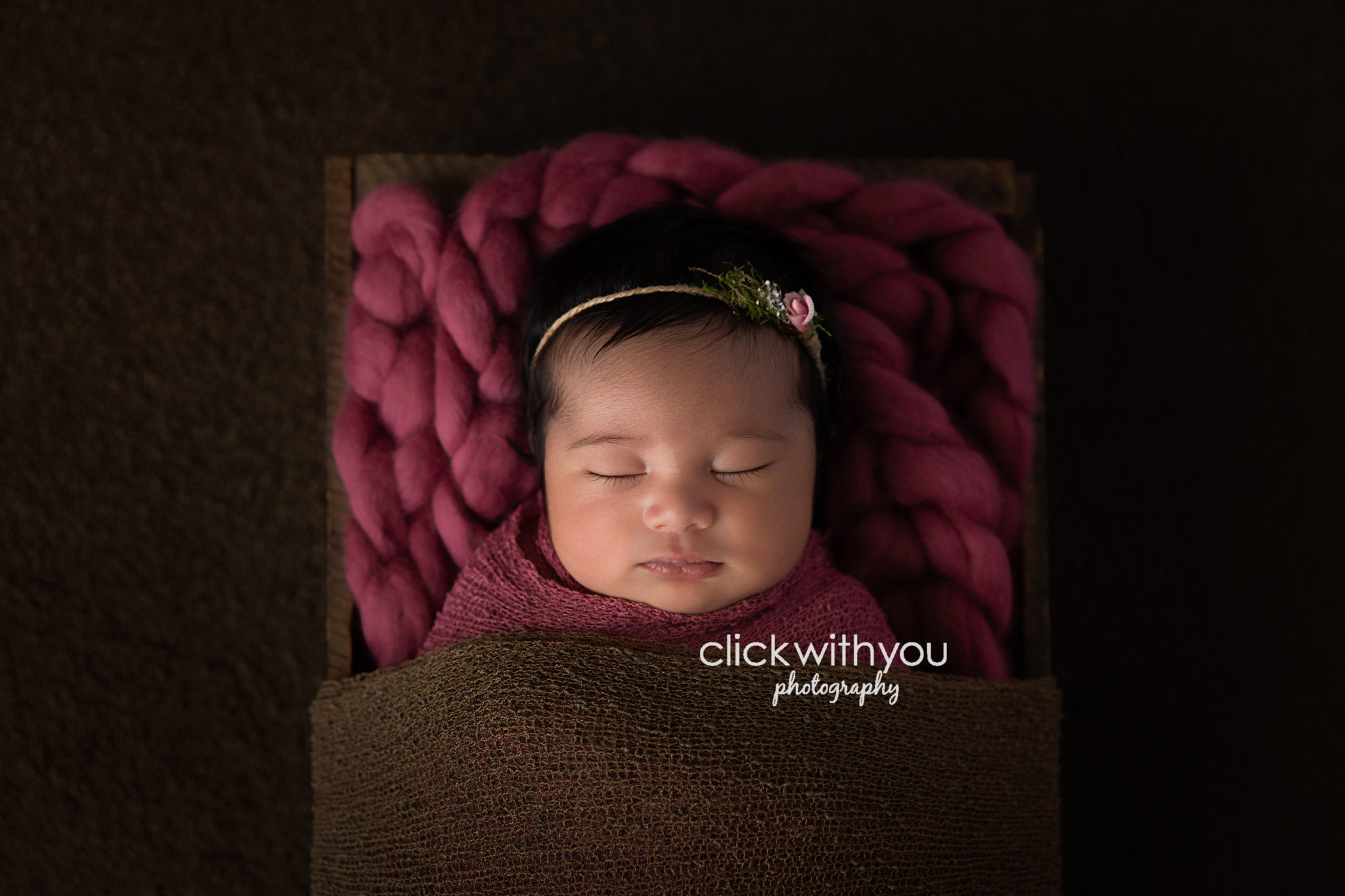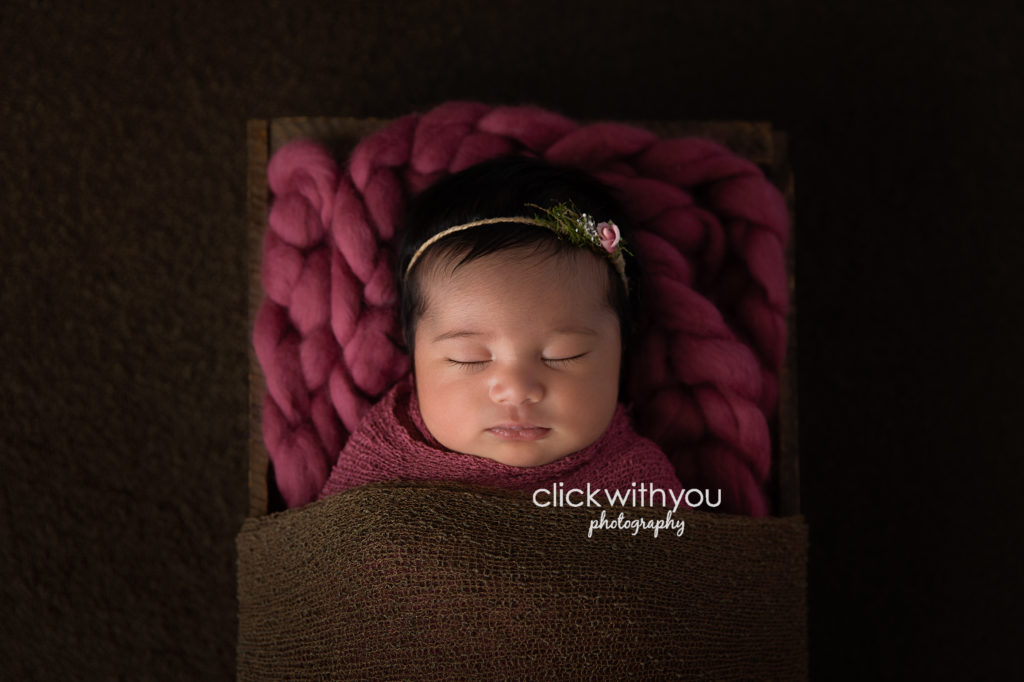 Why I am a Newborn Photographer
Written by Kristal Wozniak, Brisbane Maternity, Newborn Baby and Family Photographer from Portrait Studio Click With You Photography
As a newborn photographer, I am often asked by new parents how long I have been working with babies, and how did I start being a newborn photographer? Here is my answer: It just sort of happened! I never made the conscious decision 'I want to be a newborn photographer.' Instead it goes a little more like this…
I had a baby. She was adorable. I wanted to have her photo taken so that I could remember just how cute she was for forever! Anyway, I had a pretty awful personal experience dealing with one of the shopping centre photographic studios. When I visited with them with my daughter for the first time, (we had to go twice) she needed to be fed right by the time it was our time to have our photo shoot (They were running late too by the way) As if on cue, she began to cry, you know, as babies do when they get hungry or need comfort!
I explained to the frustrated lady ushering us in that my daughter was unsettled and I needed to feed her in order to be able to continue. I was told this: "You will have to call later to book another time then, we are already running late and I'm sorry you can't feed her here. Just go into the bathroom to feed her or something as we have other people waiting"
Can you believe it? Looking back, I am mortified as to how we were treated.
As a new Mum that knew no better, I did what she said and booked another time after I went home. When I left, I was a little upset, almost embarrassed and very disappointed. It took me ages to get all our stuff together and leave the house! I will have you know though, I didn't feed my baby in the bathroom, out of necessity I latched her on at the nearest cafe and fed her there and ordered a sandwich!
3 weeks passed and we returned again for our photo shoot. It was 10 minutes. I am not even joking it was 10 minutes, 10 minutes! Some of the photos were pretty cute, because well… my baby was cute! I bought a handful of the photos which cost me a small fortune and that was that.
I got a phone-call a few months later to let me know that I could come and collect my photos and when I did, I was handed a cardboard folder with a 'have a nice day'. All I could think at that point was, this could have been so much better. Not just my experience, but also the photos could have been so much better too if they just allowed more time. I felt like my daughter and I were not just a number to them, but also an inconvenience. This just wasn't right.
And so it began…
The next week was when I purchased my first DSLR camera. My idea was I could learn to take photos of my precious baby as she grew – there was no way I was going through that again! My first camera was in the professional class as I wanted a full-frame camera and I chose a Canon 5D MKII. And so my photographic journey began. (I now shoot with a Canon 1DX)
Taking photographs of my baby was a learning curve, but soon I found myself photographing other kids at mothers group, taking photos for friends of friends, and here we are now. 'My Photographic Journey' is a whole story in itself which I will share in another post in future. And for the record, I am still a Canon shooter!
Anyway back on topic… Why I am a newborn photographer!
So let me tell you.
Here are My top 5 Reasons why I am a newborn photographer, and love what I do.
When clients are with me in the studio I am often told how they are so surprised at how I work and create the images that I do. They say things like 'wow, you have so much patience' and they are in awe watching me wrap, pat and settle their newborn babies into cute poses and props in order to capture and create beautiful newborn photographs for them. I am often told 'you must be so patient' and have been called a 'baby whisperer' on so many occasions.
1. I wish I had what my clients have!
I am a mother of 2 and my children's newborn photos are nothing like the quality I produce for my clients, which is sad. If I could go back in time and have them done again, I would.
2. I like the challenge, I am a perfectionist.
Let me let you in on a little secret. I am not patient! There, I said it. I am the worst when it comes to patience. I dislike waiting in lines, stopping on multiple floors in lifts, and just waiting for things in general. When it comes to my work though, I appear very patient. I think it would be more accurate to say though that I am determined and enjoy a challenge! I know that if I persevere I will get a beautiful end result for my clients.
This is a major part of what I love about being a newborn photographer. Perfect poses and cute baby smiles don't come easy. It takes considerable time and skill to design, pose, capture and edit images in order to create something truly beautiful.
3. All the love!
In those first days after welcoming a brand new baby into the world, new parents are SO in love with their babies. For me, to share in that time with them is pretty special!
Despite the dirty diapers, lack of sleep, and other not so pleasant things that come along with having a newborn baby, any parent will tell you, the pure love and adoration for their baby makes it all worthwhile. For me, spending time with new parents and seeing them gush over their perfect brand new baby is just wonderful. Even better, I get to capture this for them to look back on together over and over again!
It warms my heart when parents say things during their visit to the studio like 'oh my god, look at that! – that's so cute!' and things like, 'awww look at his face' and 'she makes that little face all the time, I'm so glad you got that for us'.
For the parents to see their newborn baby being posed in the studio as we capture them and all their cuteness is something that I truly enjoy. Sometimes some of the little loves are unsettled and less willing to be compliant and stay in positions than others, but I enjoy their sass and the challenge, along with getting to know the family while we chat together.
4. Capturing once in a lifetime memories
The 'newborn stage' is a very small time-frame. Your baby is a newborn for mere weeks, and if you blink you may just miss it! These sweet individuals are only this little for a short time and you can never get it back once it's gone. We all know that children grow so fast – everyone keeps telling us! They tell us while we are pregnant, when we finally have our baby, and then for the rest of our lives! Ha ha! We don't however truly begin to appreciate the depth of this though until we wake up one day and notice we have children, and they are not babies anymore! Shock, how did this happen?! They were right!
As much as we hope that we can recall every adorable little detail of our baby forever, the simple fact is that we can't. We see them everyday and we just won't be able to. We are in awe at their sheer innocence and vulnerability, and just how tiny our ctheir toes are! But all of this will change as they grow little by little. You will fall in love with every subtle change everyday. All of what once was before becomes fuzzy, and it's only when we see other newborns we can almost recall and appreciate just how similarly small they were.
My greatest joy as a newborn photographer is the final product that I create for my clients. Knowing that I have produced priceless memories that are displayed with the utmost of pride and joy as the heart of their homes is truly an honour. The appreciation and thank yous that I receive as a result warms my heart and sometimes also induces a happy tear!
What they say:
Here are just a few messages from my inbox that I have received from a few of our recent clients when they received their printed products from us – be it canvas, acrylic pieces, an album or a combination of keepsake prints and wall art too.
"Wow Kristal, thank you so much, it's even more beautiful than I expected." Michelle P
"Just a quick message to let you know that my delivery came today and it all looks AMAZING! Thank you so much xx – The canvas is such amazing quality, and I can't stop looking at it!" Kaylee V
"Hi Kristal The images are so beautiful, thank you so much! Kylie D
5. Probably the most obvious of reasons here …  I get to Cuddle Babies!
Not only do I get to cuddle cute babies, I get to play dress-ups with them, make them look adorable, (sometimes they pee and or poop on me, but that's ok) and after I am done, I give them back! I have a wonderful endless supply of newborn sweetness to cuddle. This here has got to be one of the best things about being a newborn photographer!
Contact Us to book your Session.
To browse some of the little cuties I have had cuddles with, you can click to view the Newborn Gallery